Darwin Crocodile Farm
Establishment at Bees Creek, Bees Creek, NT 0822, Australia. Here you will find detailed information about Darwin Crocodile Farm: address, phone, fax, opening hours, customer reviews, photos, directions and more.
Photos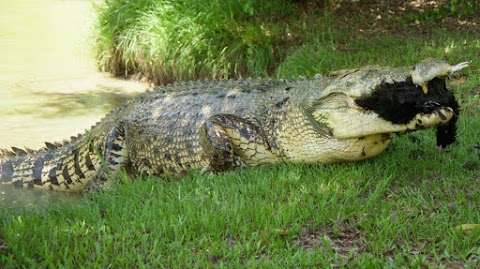 Reviews of Darwin Crocodile Farm
Lachlan Byrne Added April 09, 2021

★ ★ ★ ★ ★

Had an entertaining day and would recommend going with these guys. Stopped at some beautiful spots to swim and take it all in, then topped off with a gorgeous sunset with some oysters and champagne..
Really good value, best tour we had in Darwin!

Amy George Added April 08, 2021

★ ★ ★ ★ ★

10 stars if I could!
Tony, our driver was amazing. Very funny.
We got to the Adelaide river for the jumping crocs and this was easily one of the best experiences I have EVER done. Pat was amazing at what he does, knows everything about the saltwater crocodiles he grew up around. Great way of life and thinking too, being brought up in an aboriginal tribe, he was very interesting to listen to and talk to.
Then we went onto Litchfield national park which was beautiful. Swam in the waterfalls which was extremely refreshing, even in the rain!

Spoke to other people that booked with other tours for the jumping crocs/ national parks and they were very disappointed. So, I would 100% book with Wallaroo!

Steve Cormie Added April 06, 2021

★ ★ ★ ★ ★

Cracka of a tour. Great guide in Tony, very knowledgeable and a good bloke. Pat was awesome and a great croc tour. Anyone interested in doing the Litchfeild and croc tours, this is the one to do. You will not be disappointed!

Daniel Thurling Added April 02, 2021

★ ★ ★ ★ ★

Wonderful nature's and falls

George Mulryan Added March 19, 2021

★ ★ ★ ★ ★

We had such a great half day tour on the Adelaide River with our tour guide Pat. We booked at the tourist information centre in Darwin and everything went as planned.

Only slight disappointment was a miscommunication with water that we were told would be provided. It was not, but we were given the opportunity to buy some from a petrol station.

Even with that considered, it was still a 5/5 trip. You won't regret what you spend on this one!
Questions & Answers
1. What is the phone number for Darwin Crocodile Farm
The phone number for Darwin Crocodile Farm is +61 479 134 319.
2. Where is Darwin Crocodile Farm located?
Darwin Crocodile Farm is located at Bees Creek Bees Creek, NT 0822.
3. Is there a primary contact for Darwin Crocodile Farm
You can contact Darwin Crocodile Farm by phone using number +61 479 134 319.
4. What is the web address (URL) for Darwin Crocodile Farm
The website for Darwin Crocodile Farm is .
Share this page
Additional actions
Today's weather in Bees Creek NT
13:00
22 ℃ 1012 hPa 44 % 6 m/s 16:00
24 ℃ 1011 hPa 43 % 6 m/s 19:00
23 ℃ 1011 hPa 47 % 5 m/s 22:00
22 ℃ 1012 hPa 49 % 5 m/s
Tomorrow's weather in Bees Creek NT
01:00
22 ℃ 1012 hPa 44 % 4 m/s 04:00
21 ℃ 1011 hPa 45 % 4 m/s 07:00
20 ℃ 1012 hPa 51 % 5 m/s 10:00
19 ℃ 1014 hPa 58 % 4 m/s 13:00
19 ℃ 1013 hPa 60 % 4 m/s 16:00
18 ℃ 1011 hPa 72 % 4 m/s 19:00
18 ℃ 1012 hPa 79 % 4 m/s 22:00
18 ℃ 1014 hPa 83 % 5 m/s